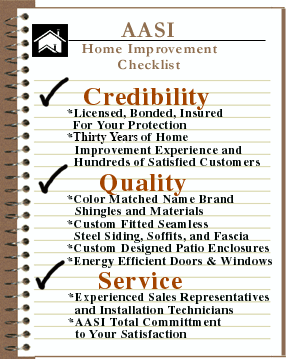 Dear Homeowner
,
At A.A.S.I. we understand that home improvement projects represent a substantial financial commitment to homeowners. A.A.S.I. Home Improvement Systems specializes in the installation of residential and commercial roofing, siding, windows, doors, awnings, and custom patio enclosures. For over 30 years we have been helping homeowners and businesses plan, make the best choice, and install home and business improvements that enhance the beauty and value of their property.
If your roof has been damaged by storms, you may be eligible to have your roof replaced by making a claim with your homeowners insurance.
Possibly you have been overwhelmed with the information from various companies:, unfortunately, there is a substantial amount of questionable information out there.
The issues that usually cause the greatest concerns are: PRICE, QUALITY, CREDIBILITY and SERVICE. However, there are other issues to consider which are not as easily addressed and may pose significant risk should you choose the wrong company. We hope the following list of questions will be helpful in your decision concerning the selection of a construction company.
Warranty:
Is the workmanship warranty unconditional? Why not? Is the warranty transferable? Are they confident in their workmanship?
Do they provide 365-day/year response to any warranty situation? How long will it take them to respond should you experience a problem?
Service:
Is the representative a salesman or will he be actively 'involved throughout the entire process? Should there be a problem, will he be there for you?
Price:
Price and the associated quality of the materials selected are an important part of the home improvement planning process. A.A.S.I. takes the necessary time to discuss the advantages of the wide variety of styles currently available.
"We were here yesterday, we are here today, and we will be here tomorrow."
For Siding, Roofing Replacement and Storm Damage Assistance, Windows, Doors, and Patio Enclosures
CALL TODAY FOR A FREE ESTIMATE
A.A.S.I. HOME IMPROVEMENTS SYSTEMS, DIV.
1136 – 114TH LANE NW, SUITE 200
Minneapolis, MN 55448
763-571-3440 FAX 763-571-2260
aasihome@aasihomeimprovements.com